MJC Sponsors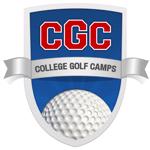 www.collegegolfcamps.com/
Developed in conjunction with NCAA coaches, College Golf Camps of America (CGC) is the first privately operated multi-college Junior Golf Camp in the world. CGC allows college coaches to instruct, evaluate, clinician and interact with Junior Golfers from all over the world. We are not a recruiting service, we are not scouting service.
College Golf Camps provides a exceptional educational opportunity for junior golfers to learn from college golf coaches, experience the competitive spirit with college golf coaches and interact with college golf coaches with the goal of improving as a golfer.
www.ssmgolf.org
Shattuck-St. Mary's School has created a college preparatory program designed specifically to meet the needs of dedicated students looking to pursue their passion in GOLF. The Golf Center of Excellence Program is the first golf program of its kind and will follow the fundamentals set in place by the hockey, soccer, and figure skating programs. Students now have the ability to combine college preparatory academics with an intensive 10 month golf program.
Under the guidance of our PGA Director of Golf, Mike Higdon, this program is going to set a new standard of junior golf in the Midwest and around the world. Mike has been a Class "A" member of the PGA since 2004. He started his professional golf career in South Florida while working with some of the top golf instructors in the world as well as players on the PGA, LPGA, Nationwide, Futures, and several mini-tours. Prior to joining SSM, Coach Higdon was responsible for founding and building the Division I Men's and Women's Golf Programs at Valparaiso University. When asked about joining the SSM team, Higdon responded: "When the opportunity arose at Shattuck-St. Mary's to start the Golf Center of Excellence it impressed me that a school had the foresight to envision allowing a student athlete to pursue their passion for a sport while not having to sacrifice the academic side of their growth. The School is committed to providing its students with the best facilities and opportunities to ensure continued growth as an individual and as an athlete. What more can a coach and athletes ask for?"
Grant Sports Management (GSM) assists organizations in maximizing the value of their marketing and promotional activities. Satisfied customers range from small businesses and charitable organizations to large corporations. GSM creates customized solutions to exceed customers' expectations, whether it's a one-time order fulfillment from their comprehensive and unique list of specialty products to ongoing relationships with organizations for complete event management. Golf-related products and events are a particular specialty for GSM. From private labeling of custom apparel to competitive pricing on name brand items such as Adidas, TaylorMade, Ashworth and Nike, GSM's broad product line has the perfect solution for every marketing need. Products and services include:
All Facets of Marketing and Management
Event Creation, Strategies & Problem Solving
Budget Development and Negotiation
Custom Logo Merchandise, Prizes, Gift Bags and Awards
Sponsorship Strategies
Fundraising Opportunities and Contests
Silent Auction Production
Consulting and Game Planning for Future Growth and Success
Signage and Digital Media
Photography and Video Services